Basketball to the moon All Over Print T-shirt Men's All Over Print T-shirt (USA Size) (Model T40)
---
Pick your size Size chart
Please pick a size!
Variant out of stock!
Add to cart
Product details
Shipping Delivery
InterestPrint® Men's All Over Print T-shirt (USA Size) (Model T40)
Type: Polyester Fabric, for Men, All-Over Printing Production Time: 5-7 days
12.35 Oz. Polyester Fabric.
Dye-sublimation printing, Personalized all-over print T-shirt for men.
Light weight and soft, comfortable and breathable.
Each panel is cut and sewn together to ensure a flawless graphic. Its details will elevate your wardrobe year round.
Sizes: S, M, L, XL, XXL, XXXL. Please calculate your size from the measurement chart below

.



There may be small difference in the design and 2-3 cm deviation for manual measurement during the production process.
Machine wash: cold (max 40℃ or 104℉); Non-chlorine; Iron with cover; Do not tumble dry; Do not insolation.

Designer Tip: To ensure the highest quality print, please note that this product's recommended uploaded image size in pixels (W x H):
Front:

4401 x 5434 PX / 150 DPI or higher;


Back:

4401 x 5332 PX / 150 DPI or higher

;
Sleeve(left):

3769 x 1592 PX / 150 DPI or higher

;
Sleeve(right):

3769 x 1592

PX / 150 DPI or higher.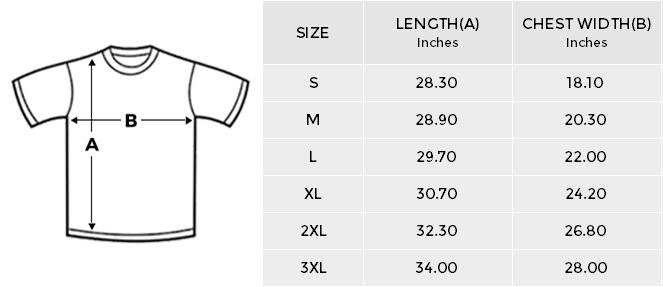 All our products are custom printed and designed with love just for you!
You can expect the following delivery times to receive your personalized product:
United States orders: 5 - 15 days
Mexico, Brazil, South Africa orders: 20 - 40 days
Rest of the world orders: 15 - 25 days
GTStyles GUARANTEED
Join more than 100 thousand delighted customers sharing our awesome T-shirts in over 150 different countries!
Not feeling ecstatic with your products? No worries! We've got it covered.
Reviews
---
K.Laubscher
Verified Buyer
10/10/2019
Great Quality
Was hoping to get a decent quality hoop but was very pleasantly surprised when my hope turned into a reality. This glow in the dark hoop is great quality and truly has a nice glow to it. The basket ball is really good quality too, and has a great bounce to it.
Missie Sadler
Verified Buyer
22/09/2019
3 pts for the win!
Slam dunk! I bought this for my son's birthday! He loves playing basketball at night! This ball is very bright. It inflates easily! I love how it shuts itself off when not in play. The net is an added bonus! We as a family are playing more basketball now that we have this incredible set.
T Stephens
Verified Buyer
15/08/2019
We're glowing!!!
This basketball set has got to be one of the coolest things ever!! It takes playing ball at night to a whole nother level! It was fairly easy to set up, just need someone tall or a ladder. The net is pretty thick and good quality! My son and his friends absolutely love this thing!
tina
Verified Buyer
01/07/2019
Glowing basketball set
What a great idea!!! Why didn't I think of it? The ball glows brightly and it's great for the kids and adults playing at night. They love it. The price was very fair and the ball is as good quality. Came with a net too. It's all easy to use and get set up. It's a big hit at my house!!
Lisett
Verified Buyer
11/06/2019
Best gift ever
My husband loves to play basketball after work so I bought him this and he loves it! He is to have a ball that lit up before but the led thing would always come off when he bounced the ball. This one doesnt have that issue! He uses it atleast 3x a week and loves it. Says it improves his shot since he plays in the dark.
Daniel Martinez Sr
Verified Buyer
04/05/2019
awesome
I was never good at basketball but no matter I got this as a Christmas present for my grandson who is very active in sports & I am very sure he will enjoy as much as I did. it took a while for me to adjust to the glow in the dark net but was awesome shooting hoops in the dark regardless. a great idea from whoever came up with this idea.
Hawaii Heather
Verified Buyer
30/04/2019
Glows very brightly!
This glow in the dark basketball set works great! The ball comes deflated but inflates quickly, and easily with the included pump (the needle is in the top of the pump.). The basketball glows brightly while in use and shuts itself off when not in use. The net was very easy to install and glows nicely. This set is perfect for people who love to plat basketball in the evening. This is a huge hit with my son and his friends.
Michelle K
Verified Buyer
25/04/2019
Amazing
What a great product. The net hooked on to my basketball rim easily. The pop ball pumped up with no problem. I must say that in the end of the pump is where you'll find the needle for the ball it took me a minute to try to locate. The light in the ball goes off by itself when it's not being used. The basketball also fits in your hand well and has a great bounce. I definitely recommend this item. If your family loves to get together and play basketball, like mine. The ball will come in handy for those late night games.
Mrs. Isis
Verified Buyer
10/03/2019
Running ball in the dark!
My son just got into playing basketball and with this Texas heat it's not easy to play during the day so he mostly plays in the late afternoon/early night time hours. Since he plays outside when it gets dark I thought it would be cool to get him this glow in the dark set! He absolutely loves it! Thinks it's the coolest thing! The hoop netting looks so cool at night and the ball glows brightly, making getting a hoop shot look pretty awesome! We've had it up for a while now and the glow is still bright, battery still holding strong! Great purchase for the basketball player in your life!
Jroose
Verified Buyer
19/01/2019
This set will be great as the days get shorter and we head into Fall and Winter.
I bought this for my grandson's birthday coming up. He loves playing basketball but has to stop in the evening when it gets dark. I thought this will be great as the days get shorter and we head into Fall and Winter. THE BALL this set comes with is nice and bright; it even includes a little handheld pump in case you don't have an electric pump. It actually has batteries in it in 2 places, so it lights up like the sun. I read that the basketball glows brightly while in use and shuts itself off when not in use. THE NET turns bright day-glow if it has been left in sunlight (or even had a bright light shining on it prior to playing); it shouldn't be too hard for his father to install using a ladder. I'm looking forward to how my daughter's family will likely improve their night shots while playing more basketball together once my grandson gets this really cool set.
Tran Duc Giang
Verified Buyer
15/10/2018
Purchased this basketball and net for my son. He loves to play basketball, but with it getting dark sooner and not having a well lit driveway, his play time was becoming limited. The moment the package arrived he had was opening up the boxes and unwrapping plastic. The net was on first and the ball inflated just moments after. I love that there was an easy to use ball pump included in the packaging. My son couldn't wait for it to get dark to really test everything out. That basketball really glows in the dark too. It was neat to watch him dribble and shoot the ball. He can't lose sight of it for even a moment now. Glow in the dark net is really neat too. I've very pleased with my purchase and have already recommended this to several friends with basketball hoops of their own.